Current and Future Projects
Events
- April 2017
There are many exciting developments afoot within the decentralization community in Vancouver, BC. The week of April 3-8th, for example, has turned into a veritable Blockstravaganza, with multiple blockchain-focused events.
April 4: IEEE Blockchain Special Interest Group Presents the First Annual Blockchain Industry Summit
April 5: Human Data Commons Foundation (in association with IEEE) Presents the Blockchain "BCSides" Free Community Event
April 5 (Evening): Decentralized Autonomous Soiree – MORE INFO TO COME, it will be a rollicking good time at dctrl with homebrewed beer!
April 7 & 8: Local Node of Global Coinfest 2017
- Ongoing
Additionally, dctrl hackerspace has frequent events, and you can keep track of them on our meetup page.
Education
- Dissemination of General Blockchain Resources
I have compiled a "living document" of intro to blockchain resources and opportunities to engage in the space, located here – I welcome suggestions for further links, please post as comments on the relevant github issue.
- Curriculum for Widespread and Decentralized Implementation
+ dctrl free school prototype
From March 20 to April 20, I am conducting an early test run for an ideally long term project– cultivating video playlists on dynamic topics in tech, which can be used anytime and anywhere to anchor discussion groups and co-learning environments. More information, and the existing cultivated playlists, can be found here.
+ Information Security Workshops
The Human Data Commons Foundation is currently in discussions with various partner organizations, working to design and implement workshops on information security and privacy. The intro level courses will be targeted to people who are first-time users of online bank accounts and who have had very little exposure to tech education. Intermediate workshops will help enhance users' awareness of their own rights, the industry best practices they can demand, and more advanced tools and methods they can use to protect their privacy online. Please get in touch if you're interested in contributing to this project, or in having us implement it for your organization when it's fully formed [approximately Fall 2017!].
+ Educational Nerd Rap
The whole msGNU thing is indeed intended as a goof and a spoof.
Activism and Large Scale Vision
- Ethics in Technology
I believe free and open source software can serve as a shining example for how to better distribute resources globally, while reshaping the definition of value and reinvigorating collaboration.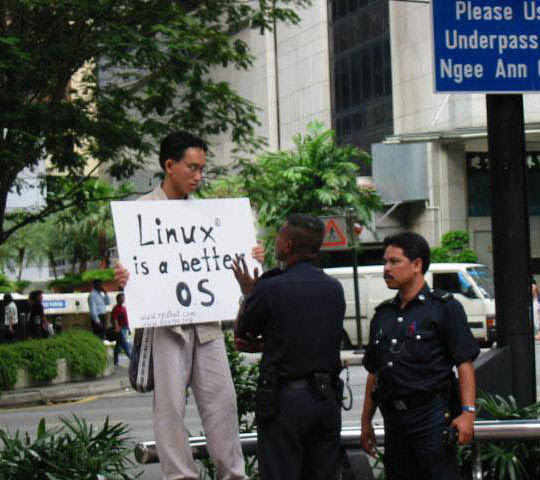 "I got some opinions..."