Blockchain Resource Guide
Compiled by Chelsea Palmer on March 8, 2017. This will be a living document, and submission of new links is encouraged: please submit these via comments on the relevant issue on my github repository.
IEEE Blockchain Special Interest Group
The prestigious IEEE has been instrumental in the progress of technology from the very beginning of electricity itself. It's exciting to be involved with their Blockchain Special Interest Group, chaired by Greg Adamson; this group is getting ahead of the curve on identifying standards, shaping policy, and supporting innovative development in the blockchain scene, especially in applications outside of simple fintech.
Blockchain Special Interest Group Website
IEEE Blockchain SIG Slack Sign Up
Blockchain@UBC
Blockchain@UBC builds upon a similarly prestigious foundation, the University of British Columbia. Blockchain@UBC serves as a research cluster fostering academic collaboration with industry, government, and nonprofit groups. The cluster lead, Victoria Lemieux, brings a dynamic and critical background in archival science to the table, laying down what I think has been a missing element in the technical conversation: verifiability of records as it applies to human civilization, not just numbers and hashes.
About Blockchain@UBC (University of British Columbia)
Call for Papers on Privacy, Security, Trust & Blockchain – Due March 31
[Reach out to ms.chelsea.palmer@gmail.com if you'd like a Slack invite - live heroku invite link to come!]
dctrl Vancouver Hackerspace
I like to say that dctrl is located in the most exciting basement in British Columbia… though I'm highly biased as a central organizer. dctrl is a community commons-modeled non-hierarchical collective, with a focus on blockchain technology and decentralization. We operate as a transparent "do-ocracy," meaning that if a member has an idea that doesn't violate any of our rules or significantly impact others in the space, they can run with it! This leads to all sorts of cool projects, from event hosting and collaborative workgroups, to Internet of Things projects linked into the bitcoin blockchain. Plus we play a lot of ping pong and jam out with a great sound system.
dctrl's explanatory wiki – new website to come soon!
dctrl Vancouver Meetup.com Page – location for much of Coinfest 2017, as well as the April 5 Bsides Event and nighttime Soiree following the IEEE Blockchain Industry Summit
dctrl Vancouver Slack Sign Up (Active discussion group with hundreds of members - great place to look for dev talent or discuss current blockchain news)
CoinFest 2017 [April 7-8, 2017 – 436 West Pender Street]
Originally started in Vancouver, CoinFest is a grassroots community event celebrating the beauty and wonder that is Bitcoin.
Great Intro Resources to Blockchain and Decentralization
Feel free, as stated above, to suggest more links to add to this list by submitting them via comments on the relevant issue on my github repository.
Intro to Blockchain and Intro to Ethereum Youtube Playlists (Curated by Chelsea Palmer for dctrl Free School experiment)
Here are curated playlists from the "free school" streaming drop-in program I am running at dctrl [436 West Pender Street, Vancouver, BC] from March 20 - April 20. More info is available on my site
2016 Decentralized Web Summit
I had the honor of attending the first annual DWeb Summit, hosted at the Internet Archive in San Francisco. With Tim Berners-Lee, Brewster Kahle, and Vint Cerf among the keynote speakers, the focus was on using blockchain technology to revive and protect the original vision of a free and open internet. Plus, thanks to the lovely Wendy Hanamura, I weaseled my way on stage to rap about the historical tension between surveillance and liberation in tech innovation!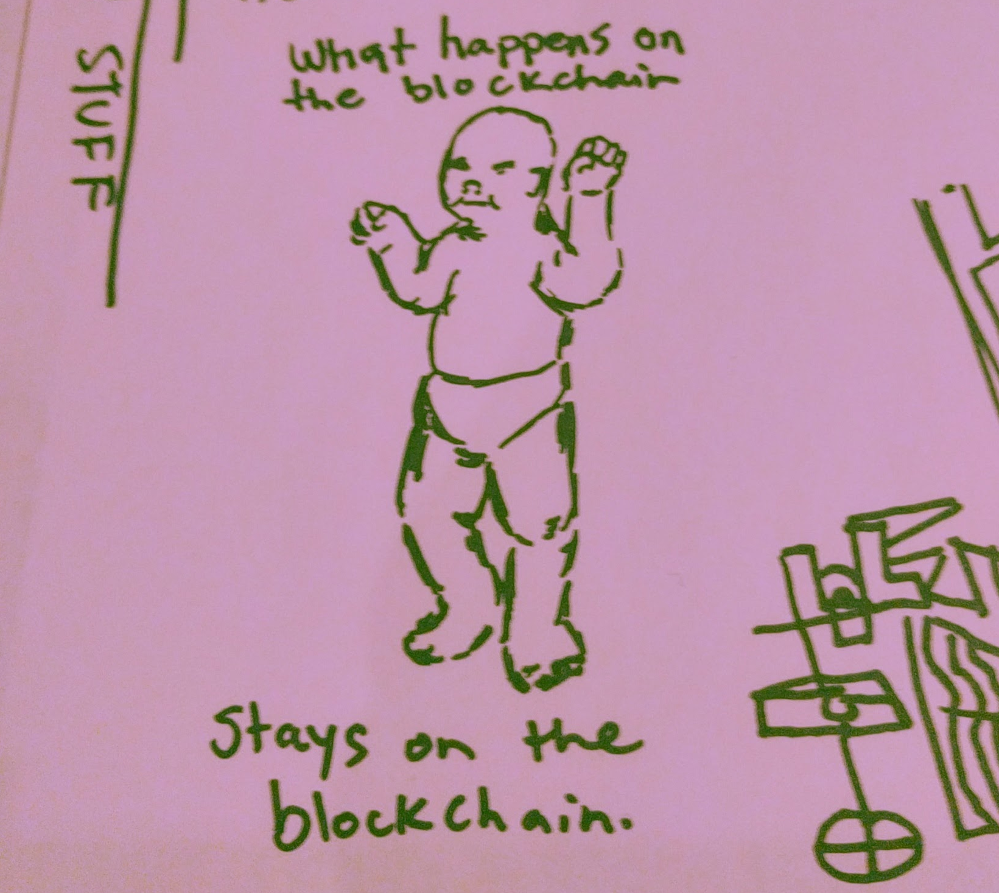 Quote credit: Cameron Gray Drawing credit: Tanna Postlewaite