BlockChainSides Vancouver 2017 - A Blockchain Tech-tivus for the Rest of Us!
April 5, 2017 – 436 West Pender Street, Vancouver, BC
Sponsored by the Human Data Commons Foundation in partnership with Blockchain@UBC
Why a "Bsides"?
The tradition of "Bsides" conferences in the technology sector arose from the financial barriers to access mainstream conferences that bring people from all around the world. The Bsides concept is personally meaningful to me due to my working-class background, my currently massive reserve of high-interest student debt, and the fact that volunteering Bsides Vancouver Information Security Conference was my first real entry to the local tech scene about 3 years ago. If developers, hackers and hobbyists can't pay the exorbitant fees to get into the "big conferences," by George, we'll build our own on a shoestring budget and grassroots volunteers!
Room for Risk-Taking
Additionally, mainstream industry events are often limited to presentations and discussions about larger, fully funded, and often "safer" projects, the blockchain hackerspace community can provide a window into the most cutting edge and creative hands on work being conducted in the field. There is significant advantage, in this regard, to not being "too big to fail." Trying out new tools at the micro-level, in face-to-face communities, enables much more sustainable and reliable macro-level projects upon scaling.
In short, we can move more effectively and rapidly toward "trustless trust" systems if the transition plan involves experiments within "trust-full trust" communities.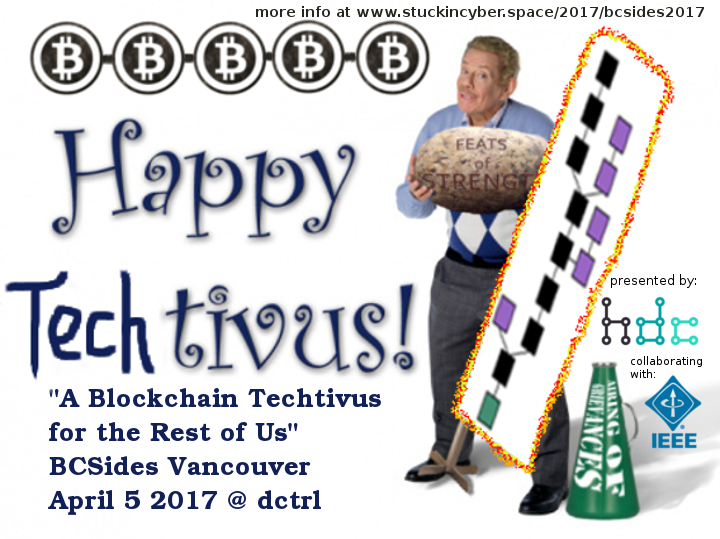 Schedule
The structure of daytime activities is intended to supplement, rather than compete with, the concurrent IEEE Cloud Computing Summit schedule. The tentative schedule is as follows:
9:00 - 12:00: Drop-in open house
12:00 - 13:00: "Lunch and Learn" session: Intro to Blockchain
13:00 - 15:00: Principles of Cryptography Workshop (Introductory through Intermediate)
Walkthrough of the origins of modern cryptography, and its crucial role in many pivotal historical developments Basics of technical/computer cryptography as it relates to information security and blockchain Playing around with ciphers and classic projects
15:00 - 17:00: Collaborative discussion groups
For Whom? Decentralization and the New Tools of Communal Governance

[Use Case: the 2016 "DAO-saster"]

For What? Blockchain Applied to Global Social Good

[Use Case: Refugees and "Brain Wallets"]

Free as in Freedom: Identity, Autonomy, and Applying F/LOSS Values

[Use Case: Grappling with the Increasing Monetization of Blockchain Innovation]
18:00 - 20:00: Community presentations on issues around decentralization and local projects
Insights and discoveries from a 3 year old ground-up decentralized community
Using tech dev tools and platforms to enable more democratic and transparent governance
Creating autonomous nodes for true decentralization: grappling with replicability, verifiability, and adaptability
20:00 - ???: Decentralized Autonomous Soiree - open social mixer for cross-sector networking
Decentralization as human liberation
Linking Internet of Things projects into the Bitcoin blockchain
More information will be provided as the event organically shapes up. Suggestions, contributions, and questions are all welcome: email ms.chelsea.palmer@gmail.com. Come see how the "other half" lives, have a great time, and brainstorm new ideas within diverse and autonomous interactions!